Country Style have been crowned winners at the 2015 Quality Food Awards, picking up the title in the Large Loaves category for its White Crusty Cob.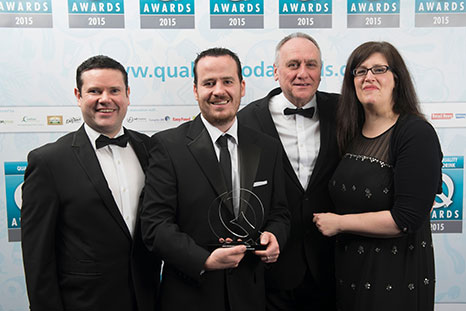 The Quality Food Awards are the most prestigious awards for food and drink products on sale in UK grocery. All entries face a judging panel comprising experts from many different industry disciplines. Judges take every aspect of a product into consideration, rewarding them for great flavours, high-quality ingredients, excellent value for money and outstanding packaging.
The award was presented by chef, restaurateur and star of TV's Sunday Brunch Simon Rimmer, with patissier and chocolatier Will Torrent.
Judges liked the fact that Country Style's cob was Yorkshire-made with British flour in a family-run bakery and appreciated its taste and texture. In praising the product that was 'significantly cheaper than comparative products in the market', Judges referred to: " A good-looking loaf with its criss-cross pattern, floured, good crust, even texture. and a pleasing aroma … a lovely crunch when toasted."
Joe Wood from Country Style said: "We are thrilled to have received this recognition for the whole team, especially my colleagues in the bakery who work hard to please our customers every day with this product."
All category winners are now eligible to enter the new People's Choice Quality Food Awards. This consumer panel will be convening over the winter to select the 'best of the best' – with the Ultimate QFA winner being announced in February 2016.
All excess food from the judging was given to FareShare, a national UK charity supporting communities to relieve food poverty.
To find out more about the Quality Food Awards, visit qualityfoodawards.com, become a friend on Facebook or follow them on Twitter.